Movie-  Godzilla-Mothra-Ebirah:Great Battle in the South Seas 
(ゴジラ・エビラ・モスラ 南海の大決闘

,

Gojira, Ebira, Mosura Nankai no Daikettō)                                                                                 

Fight- Ebirah, Mothra (partly)
Weapons- Rock throwing, Atomic Breath
Godzilla 1966 was a water-proof made suit.
PLOT:
On an island being piloted by The Red Bamboo, a group of highly trained men that put islanders inslavery, are making the slaves make Yellow Juice that can summon their sea guard-Ebirah. They have to guards, counting as kaiju, that are: Daikondora (giant condor), who guards the top layer, or sky, and the sea guard,Ebirah (already mentioned on sentence one). A group of men go on a cruise to a paradise filled island, but are attacked in a storm by Ebirah, but now dubbed by the men, which is also mentioned throughout the film,"Look!, its the giant claw!". But near the end mentioned,"You mean, Ebirah?", by a shy girl they meet. Godzilla is soon awakened by lightning and fights Ebirah by fliping him over his shoulder, and being drouned. After throwing rocks,punching, and kicking, Ebirah was driven away. Next, Godzilla was spotted attacking the giant condor, and uses his flames to burn him to death, and fall into the ocean. Godzilla next attacks the Red Bamboo's station, by throwing rocks, and punching, and stomping. Godzilla fights Ebirah once more, but this time, he rips off his claws, and he is killed. The small fairies call in Mothra to help the slaves, and the men that were deserted on the island. Godzilla and Mothra soon fought a little bit, but a bomb was set off to destroy the whole island within 5 minutes!! Mothra flies away, and the rest of the people call to Godzilla, "Run away! You'll explode! Go to sea!" Godzilla hears and runs into the ocean when the bomb has only 1 second until egnition. After the island explodes, all is well.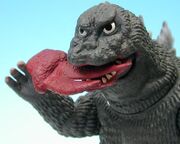 GOJI FACTS!
Ebi, in Japanese, means,"shrimp" So, technicly "Ebi"rah stands for giant shrimp.